The Book
My book, Contact Center Excellence is available in print and Kindle versions at Amazon.com.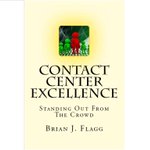 "Excellence in the Contact Center doesn't happen by mistake.  It takes a well-defined strategy, focused on both operational and quality success drivers, with a keen understanding of the leadership, process and technology maturity of the organization; it takes measurements driven from the strategy, with a focus on managing variability; it takes a hiring strategy and an engagement strategy.  This book will enable you to 'do the right things' in addition to 'doing things right' to drive your contact center to world class level".
Brian J. Flagg
September, 2012
The book represents my 20+ years of experience, and the experience of other colleagues, too numerous to mention, that have formed a collective experiential framework.  Some of the ideas presented here are somewhat challenging, such as the opinion that I believe far too much money and too many resources are being spent on after-the-call inspection rather than on quality built into the interactions.
The book is not intended to be read cover-to-cover.  It is not a how-to manual on setting up and running a contact center.  What it is, is a set of related topics that will move a contact center from good to great.  Use the book to focus on the principle challenges in your leadership and operations.  I believe you will get the most from the content by reading the first two chapters in their entirety and then going to the chapter that best addresses the challenges present within your organization.
It is my sincere desire that the book presents some nuggets of value for you and that you come away with a better performing contact center as a result.